Let's see some hairstyles likely turning round face into a V-line face, an appropriate hair has the ability to overcome weak-points of the face efficiently. Because hair is like the secret weapon of female because in addition to effects on the beauty, let's see 6 perfect hairstyles to overcome weak-points for girls.
1. Long wavy hair
Long wavy hair not only makes you allure, stylish but also makes your face slim immediately. Puffy curls are the workhorse covering crude jaw area.
In addition, it is also being evaluated to be a suitable hairstyle for all styles and never out of fashion over the years.

Wavy curls will cover a part of round face

Combine with side parting bangs at the rate 7/3 will make your face slimmer

This hairstyle brings about youth and style
2. Shoulder-length hair
It is no coincidence that many hot girls and stars like this hairstyle. Features of this hairstyle are shoulder length or longer than shoulders from 3-5 cm and be swept, curled to cover weak-points of the face.
If any girls are wondering a hairstyle for this autumn, don't forget to consider this hairstyle.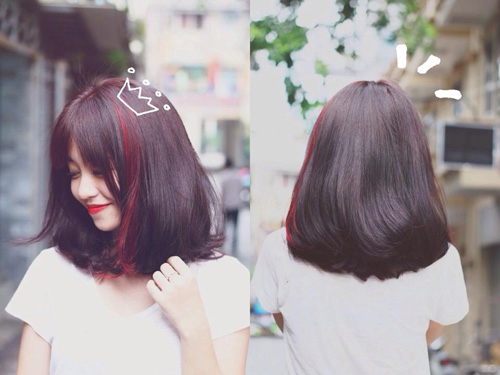 Hot girl Man Tien has loved shulder-length hair for a long time

Hair curling trophy and curly hair tail are two most favorite hairstyles

Hot girl Salim also can't stand charm of this divine hairstyle
3. Bob hairstyle
Bob is the term to describe the jawbone-length hair. You can twist this hairstyle according to preferences such as straight, curling trophy, curly styles…
Because this hairstyle hugging jawbone, it will help girls significantly cheat face area.

Hairstyle hugging face will help girls overcome weak-points of coarse face features

You can let it straight or trim the hair roots to pick out the most suitable style

Make hair tangled and slightly curly to be younger
4. Central parting hairstyle
Central parting hairstyle from many years ago has become trendy in this year.
This hairstyle not only makes you gentle, feminine, but also is evaluated to be suitable for any kinds of face and cover weak-points perfectly.

Appearing from the 90s, but recently, this trend is favor of many young people

This hairstyle is for girls with round face

This hairstyle brings about feminine, elegance
5. Straight long hair
This hairstyle is familiar with all of the girls, it is not fussy. You need only wash hair and dry hair naturally, you will have a gentle and stylish hairstyle.

You need only wash and dry hair – you will have the hottest hairstyle this year

You many have a little variation with slightly curly hair tail, but, in general, keep the straight hair design
6. Layered hairstyle
Another hairstyle from the 90s and earlier is the favor of many young people. Layered hair is expected to become a hot trend in autumn and winter 2016
If hair with the same layers makes your hair thicker, layered hair will make you feminine more than ever. Carefully layered hair will make you much more dynamic and younger.

Korea is the first trendsetter of this hairstyle

The pioneer is Suzy with puffy and feminine layered hairstyle

Carefully layered hairstyle will make you more feminine and younger

You can optionally choose the appropriate length
Thank you for watching our articles. Please travel with Vietnam Remy Hair Blog for more beautiful and strange new hairstyle. If you interested in Virgin hair extensions, need an feminine hair style, You can buy Vietnamese Virgin Hair  at Vietnam Remy Hair Company. As leading vietnamese hair suppliers in quality we aspire to bring you the most anticipated products with excellent quality!